---
Fundraising
Fundraising for the Québec Aerospace Museum is at crucial point in its development, with the museum actively working to tap government and private funds.
Government funding is available to non-profit museums, but this is conditional on a Museum having one or more permanent employees as well as an exhibition space open to the public on a permanent basis.
The museum must therefore already be open to the public before it can be officially recognized as a museum eligible for public funding!
In the current situation, the QAM can therefore only count on private funding, as well as the discretionary contributions of certain government deputies and ministers who want to support the early stage develop of the organization. Donations, and cash advances from members, have been essential to allow the organization to grow during this start-up period.
The QAM is recognised by the Canada Revenue Agency (CRA) as a registered non-profit charity, which means it can issue tax-deductable receipts for all donations.
The establishment of a museum that showcases the aerospace industry of Quebec and Canada will require financial support from governments to achieve its full potential.
---
Soaring to the Future
The Museum's Board of Directors is aware of the current economic challenges and understands that it must work hard to maximizing the contributions it receives from industry and private donors.
All aviation museums require the broad-based financial support of the corporate community and government bodies, as well as the generosity of visitors, members and private donors to thrive.
QAM is committed to being fiscally responsible and transparent when it comes to all museum activities and operations as today's public expects.
The restoration of the CF-100 #100760 remains a top priority for the Museum.
---
Individual support sought
• Membership.
• Donations of material, equipment, archives, documentation, etc. See, in particular, the section ""We are looking for"".
• Money donations.
---
Institutional and corporate support sought
Those in charge of the Québec Aerospace Museum are asking the industry, the corporate community and local authorities to contribute to its project currently focused on the realization of Phase 1 and the launch of Phase 2 infrastructures, this in addition the maintenance and development of its current activities. The support sought can take several forms:
• Membership as a corporate member to cover operating costs.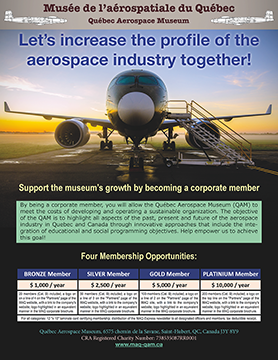 • Sponsoring of specific projects (development of Phase 1 storage areas, storage containers, aircraft restoration, or others).
• Loan of premises, hangar spaces, exhibition spaces or storage spaces.
• Donation of aircraft, material, equipment or tools.
• Recruitment of volunteers wishing to get involved in the project.
This is why the organization is determined to guarantee a strict and rigorous use of its resources while continuing to offer historical content as optimally as possible as well as community involvement commensurate with what the population and the community have to offer. industry are entitled to wait.
If you want clarification or more specific information about specific topics, we have detailed documents covering all of our projects; they are available on request. Do not hesitate to contact us !
The box containing the MAQ's Kitty Hawk Flyer is currently stored in Saint-Hubert thanks to the good care and support of LUX FBO.
---
Dernière mise à jour/Last update : 08-12-2022.
© Pierre GILLARD, Pierre MÉNARD & Kenneth I. SWARTZ