---
A project-based approach
QAM executives envision two categories of operations to be managed, each of which will require appropriate funding.
On the one hand, there are the regular activities as well as the management of the organization and, on the other, the projects. The latter being of a one-off nature, their funding is planned independently, on a case-by-case basis. This has been defined within the organization as a "project approach".
For a project to be completed, several steps will take place. First, a coordinator must be appointed to take charge of it. The latter will then write a file containing all the elements of the project, including both administrative and technical aspects, as well as a budget for carrying out the project and another, if necessary, to establish its sustainability over time.
Then comes the funding stage where several strategies can be applied, but usually favoring those of partnership and sponsorship.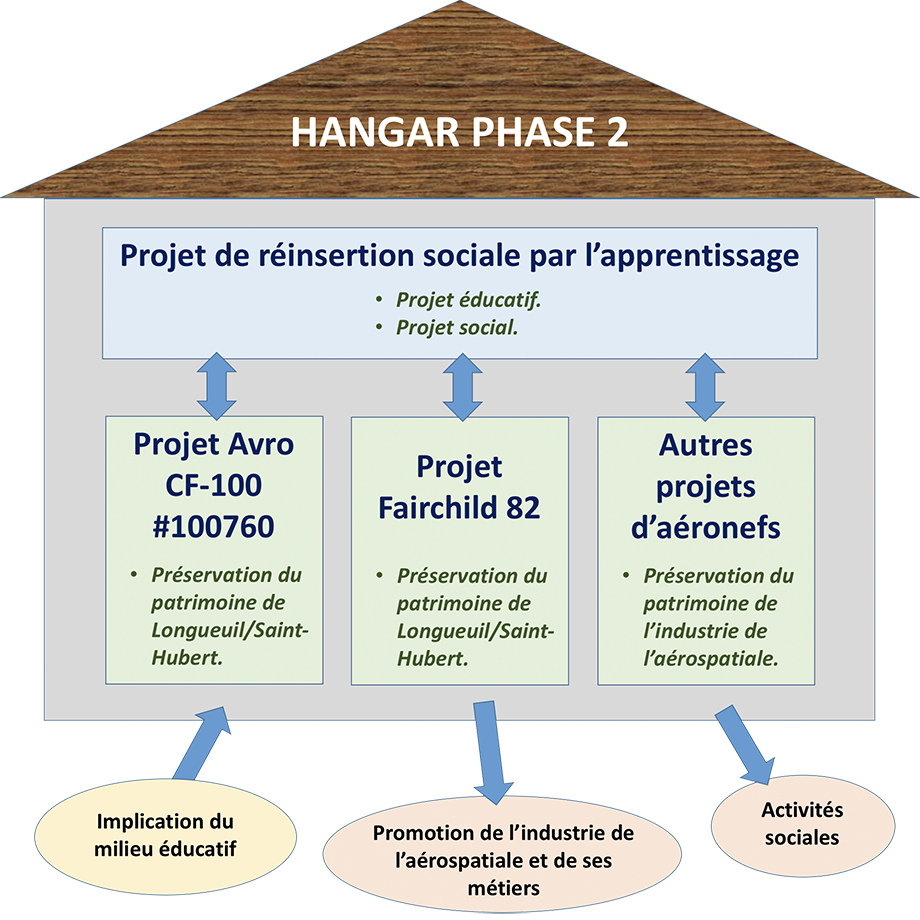 Access to hangar space is key to the effective start of the vast majority of QAM activities.
---
Some projects under study or in progress ...

The QAM being a young organization starting its activities, several important projects for its development are in development or in progress:

"Phase 2" Hangar: A hangar of 97' x 85' is envisaged to be able to start the restoration of aircraft as well as to start the social reintegration project. The file is in the drafting phase.

Avro CF-100 Canuck #100760: Several partnership and sponsorship requests have recently been sent to various businesses and schools. The project is in the process of securing funding. Hangar space should also be found in order to start the restoration of the fuselage.

Bombardier (Canadair) CRJ 100/200: A coordinator has been appointed with the mission of preparing a case for the acquisition of an aircraft of this type representing the most important commercial success ever recorded by the Canadian aerospace industry.

Airbus Helicopters Alouette II "Hydro Québec": A complete file to acquire an Alouette II Astazou helicopter in Italy is ready. This helicopter had flown in the past for Hydro Quebec. All that is needed is funding, and therefore a sponsor, to see him return to La Belle Province.

Sikorsky CH-124 Sea King: All of the Royal Canadian Air Force's Sea King helicopters were decommissioned and the aircraft that were not preserved were sold to a company in British Columbia. We are currently looking for a coordinator to assess the possible acquisition of such a helicopter and its transport to Saint-Hubert. As a reminder, these devices were built in Longueuil and Saint-Hubert.

Replica of the Fairchild assembly line: During World War II, the Fairchild factory in Longueuil assembled a number of military planes, including Bristol Bolingbrokes. The project would aim to rebuild part of the assembly line of this type of aircraft.

Fairchild 82: To stay within the context of the Longueuil plant, MAQ might have the opportunity to refurbish a pre-war Fairchild 82. However, this project is conditional on having a hangar.

Realization of replicas of Canadian satellites: Canada's contribution to space is very important. One way to enhance this would be to make replicas of satellites designed and made in Canada. A coordinator should be found to initiate this project.
---
Dernière mise à jour/Last update : 09-08-2021.
© Pierre GILLARD & Pierre MÉNARD