---
Données de l'aéronef/Aircraft Data - Historique/History - Au MAQ/At the QAM - Photos/Pictures - Références Internet/Internet References - Divers/Miscellaneous
---
Données de l'aéronef - Aircraft Data
Manufacturier/Manufacturer :

Kenneth J. Taylor

Type de l'aéronef/Aircraft Type :

Roland Duruble RD02A Edelweiss

Numéro de série/Serial Number :

01

Année de construction/Year of Manufacture :

1984

Premier vol/Maiden Flight :

01-12-1984

Moteur/Engine :

1 x Continental O-200A
---
Historique - History

Date

Im./Reg.
Propriétaire-Opérateur/Owner-Operator
Remarque/Remark

10/10/1984

Kenneth J. Taylor

Manufacturing completed (amateur built).

08/11/1984

Kenneth J. Taylor

Technical inspection completed; found serviceable.

26/11/1984

C-GIWY

Kenneth J. Taylor

Kenneth J. Taylor, Delta, BC; registered.

01/12/1984

C-GIWY

Kenneth J. Taylor

First flight at Boundary Bay, BC; pilot : Don Petrik.

27/12/1990

C-GIWY

Kenneth J. Taylor

Sold to Donald Robertson.

15/01/1991

C-GIWY

Donald Robertson

Donald Robertson, Willowdale, ON; registered; based at Markham, ON.

05/1991

C-GIWY

Donald Robertson

Donald Robertson; ferried from Boundary Bay, BC, to Markham, ON, between May 19, 1991, and May 23, 1991.

C-GIWY

Donald Robertson

Stored dismantled in a barn at Port Perry, ON.

22/06/2008

C-GIWY

Donald Robertson

Sold to Antoine Moulin.

22/06/2008

C-GIWY

Antoine Moulin

Ferried from Port Perry, ON, to Saint-Anselme, QC by truck.

29/09/2008

C-GIWY

Antoine Moulin

Antoine Moulin, Saint-Augustin-de-Desmaures, QC; registered; based Saint-Anselme, QC.

21/05/2021

C-GIWY

Antoine Moulin

Owner announced his intention to give aircraft to Musée de l'aérospatiale du Québec-Québec Aerospace Museum, Saint-Hubert, QC.

10/07/2021

C-GIWY

Antoine Moulin

Ferried Saint-Anselme, QC - Saint-Hubert, QC; stored at Saint-Hubert, QC.

16/07/2021

C-GIWY

Antoine Moulin

Donated to Musée de l'aérospatiale du Québec-Québec Aerospace Museum.

Ci-dessous, vous trouverez informations et documents que nous avons trouvés au sujet de l'histoire du Roland Duruble RD02A Edelweiss C-GIWY. Cette rubrique sera complétée au fur et à mesure que du nouveau matériel sera découvert.

Below you will find information and documents that we have found about the history of the Roland Duruble RD02A Edelweiss C-GIWY. This section will be completed as new material is discovered.

---

L'Edelweiss :

Présentation - Introduction

L'Edelweiss est un avion destiné à la construction amateur qui a été conçu par l'ingénieur français Roland Duruble. Il existe trois variantes de cet appareil:

| | |
| --- | --- |
| RD02 : | Prototype de l'Edelweiss actuellement préservé au musée Espace Air Passion à Angers en France. |
| RD02A : | Évolution biplace du prototype RD02. |
| RD03 : | Version quadriplace du RD02A. |

The Edelweiss is a homebuilt aircraft designed by French engineer Roland Duruble. There are three variants of this aircraft:

| | |
| --- | --- |
| RD02: | Prototype of the Edelweiss currently preserved at the Espace Air Passion museum in Angers, France. |
| RD02A: | Two-seater evolution of the RD02 prototype. |
| RD03: | Four-seater version of the RD02A. |

La particularité de l'Edelweiss est qu'il dispose d'un train d'atterrissage rétractable, ce qui est assez unique pour un avion de construction amateur.

A remarquable aspect of the Edelweiss is that it has retractable landing gear, which is quite unique for an amateur-built aircraft.

Vue du train d'atterrissage principal gauche et de son mécanisme de rétraction.
View of the left main landing gear and its retract mechanism.

---

1984 :

Construction et premiers vols - Completion of Construction and Early Flights

Il semblerait que sept liasses de plans de RD02A Edelweiss aient été vendues par Roland Duruble et ses successeurs. Toutefois, un seul avion de ce type a été terminé et a volé : il s'agit du numéro de série 01, actuellement la propriété du Musée de l'aérospatiale du Québec. Celui-ci a été construit par Kenneth J. Taylor (aujourd'hui décédé) à Delta, en Colombie-Britannique.

It seems that seven bundles of RD02A Edelweiss plans were sold by Roland Duruble and his successors. However, only one single aircraft of this type has been completed and flown: it is serial number 01, currently the property of the Musée de l'aerospatiale du Québec. This one was built by Kenneth J. Taylor (now deceased) in Delta, BC.

Extrait du carnet de route de l'aéronef.
Extract from the aircraft journey log.

Le 8 novembre 1984, une fois la construction achevée, immatriculé C-GIWY, l'avion est inspecté et déclaré "en état de service". Puis, à partir du 14 novembre jusqu'au 21 novembre 1984, des tests de roulage au sol sont effectués par Robert Lalonde et Dave McGowan à l'aéroport de Delta-Boundary Bay (CZBB). Enfin, le premier vol a lieu le 1er décembre 1984, l'avion étant piloté par Don Petrik. Dans les jours qui suivent, autant Don Petrik que Dave McGowan effectuent plusieurs vols avec l'Edelweiss.

On November 8, 1984, once the construction was completed, the C-GIWY-registered aircraft was inspected and declared "serviceable". Then, from November 14 until November 21, 1984, taxiing tests were carried out by Robert Lalonde and Dave McGowan at the Delta-Boundary Bay Airport (CZBB). Finally, the first flight took place on December 1, 1984, the plane being piloted by Don Petrik. In the days that followed, both Don Petrik and Dave McGowan made several flights with the Edelweiss.

Permis de vol du 10 décembre 1985.
Flight permit dated December 10, 1985.

L'Edelweiss n'est pas un avion simple à réaliser en construction amateur. Il est nécessaire de disposer de très bonnes habiletés pour mener un tel projet à terme. Comme déjà vu plus haut, une des particularités de cet avion est son train d'atterrissage rétractable. Pour le reste, il est équipé d'un moteur Continental O-200 de 100 chevaux, d'une hélice McCauley à pas fixe et de roues Cleveland. Selon Antoine Moulin, le dernier propriétaire de l'Edelweiss C-GIWY qui a volé une bonne quinzaine d'heures avec cet appareil, ses qualités de vol sont excellentes et il est très gracieux dans les airs.

The Edelweiss is not an easy aircraft to make in amateur construction. It is necessary to have very good skills to bring such a project to fruition. As already seen above, one of the particularities of this plane is its retractable landing gear. For the rest, it is equipped with a 100 horsepower Continental O-200 engine, a McCauley fixed-pitch propeller and Cleveland wheels. According to Antoine Moulin, the last owner of the Edelweiss C-GIWY who flew a good fifteen hours with this aircraft, its flight qualities are excellent and it is very graceful in the air.

Plaque de manufacturier de l'Edelweiss C-GIWY.
Edelweiss C-GIWY manufacturer plate.

---

1984 à 1991 :

En Colombie-Britannique - In British Columbia

L'Edelweiss C-GIWY vole durant quelques années en Colombie-Britannique essentiellement lors de vols locaux à Delta-Boundary Bay. La majorité des vols sont effectués par Dave McGowan et, parfois, par Don Petrik. Depuis son premier vol jusqu'au 11 juin 1990, l'Edelweiss vole 127,9 heures. Ensuite, il demeure au sol jusqu'au 14 mai 1991 où il vole à Boundary Bay et Abbotsford avec J. Wolsky aux commandes, parfois assisté de Dave McGowan ou d'un certain Harji. Puis, à partir du 19 mai débute le vol de convoyage vers l'Ontario où l'avion a été vendu.

The Edelweiss C-GIWY flew for a few years in British Columbia mainly on local flights in Delta-Boundary Bay. The majority of the flights are flown by Dave McGowan and sometimes by Don Petrik. From its first flight until June 11, 1990, the Edelweiss flew 127.9 hours. Then, it remained on the ground until May 14, 1991 when it flew in the area of Boundary Bay and Abbotsford with J. Wolsky at the controls, sometimes assisted by Dave McGowan or a certain Harji. Then, from May 19 began the ferry flight to Ontario where the plane was sold.

Extrait du carnet de route de l'aéronef.
Extract from the aircraft journey log.

---

1991 à 2008 :

En Ontario - In Ontario

Acte de vente entre Kenneth J. Taylor et Donald J. Robertson du 27 décembre 1990.
Bill of sale between Kenneth J. Taylor and Donald J. Robertson dated December 27, 1990.

Le 27 décembre 1990, l'Edelweiss est revendu à Donald Robertson de Willowdale en Ontario. Il est officiellement immatriculé au nom de ce dernier le 15 janvier 1991. Mais c'est seulement du 19 au 23 mai 1991 que l'avion est convoyé de Boundary Bay à Markham par J. Wolsky. À ce moment, il totalise 154,9 heures de vol. Sur place, le propriétaire vole semblerait-il quelque temps avant de le remiser dans une grange à Port Perry. Toutefois, aucune entrée n'est inscrite dans le carnet de route de l'aéronef.

The Edelweiss was sold to Donald Robertson of Willowdale, Ontario on December 27, 1990. It was officially registered in the latter's name on January 15, 1991. But it was only from May 19 to 23, 1991 that the plane was ferried from Boundary Bay to Markham by J. Wolsky. At this time, he has logged 154.9 flight hours. On site, it seems that the owner flies for a while before storing it in a barn in Port Perry. However, no entry is made in the aircraft journey log.

C-GIWY Roland Duruble (Kenneth J. Taylor) RD02A Edelweiss MSN 01 - Markham, ON - CNU8 - 1994 (Thanks to George Trussell).

---

2008 à 2021 :

Arrivée au Québec et remontage - Arrival in Quebec and Assembly

Acte de vente entre Donald J. Robertson et Antoine Moulin du 22 juin 2008.
Bill of sale between Donald J. Robertson and Antoine Moulin dated June 22, 2008.

Ayant vendu son Morane MS.885 Super Rallye, Antoine Moulin achète l'Edelweiss C-GIWY pour lui succéder. À ce moment-là, celui-ci est, semblerait-il, à la veille de prendre le chemin de la casse. Acquis le 22 juin 2008, l'avion est transporté par la route le même jour à Saint-Anselme (CTQ6) au Québec où il est entreposé dans le hangar de son nouveau propriétaire en vue d'être remonté et remis en état de vol.

Having sold his Morane MS.885 Super Rallye, Antoine Moulin bought the Edelweiss C-GIWY to succeed him. At this time, it seems that this one was on the eve of taking the road to the scrapyard. Acquired on June 22, 2008, the aircraft was transported by road the same day to Saint-Anselme (CTQ6) in Quebec, where it was stored in its new owner's hangar to be reassembled and restored to flying condition.

L'Edelweiss C-GIWY prêt à être remis en état de vol à Saint-Anselme.
The Edelweiss C-GIWY ready to be restored to flying condition at Saint-Anselme.

Le 29 septembre 2008, le Certificat d'immatriculation de C-GIWY est établi au nom d'Antoine Moulin. Simultanément, la remise en état de vol de l'appareil est entreprise par son propriétaire.

On September 29, 2008, the registration certificate for C-GIWY was issued in the name of Antoine Moulin. Simultaneously, the restoration of the aircraft to flight condition was undertaken by its owner.

Certificat d'immatriculation du 29 septembre 2008.
Certificate of Registration dated September 29, 2008.

Durant la fin de l'année, les ailes sont décapées et repeintes dans le garage du domicile d'Antoine Moulin situé à Saint-Augustin-de-Desmaures, près de Québec. Le reste de la restauration de l'Edelweiss se déroule à Saint-Anselme.

At the end of the year, the wings were stripped and repainted in the garage of Antoine Moulin's home in Saint-Augustin-de-Desmaures, near Quebec. The rest of the restoration of the Edelweiss took place in Saint-Anselme.

Aile gauche de l'Edelweiss en peinture dans le garage du domicile d'Antoine Moulin à Saint-Augustin-de-Desmaures.
Left wing of the Edelweiss painted in the garage of Antoine Moulin's home in Saint-Augustin-de-Desmaures.

En juin 2009, le moteur Continental O-200A est révisé par Aéro Atelier au Lac-à-la-Tortue. Puis, une fois l'avion réassemblé, un point fixe est effectué le 13 août 2010. Il faudra, toutefois attendre le 5 septembre 2013 avant qu'un premier vol ait lieu entre Saint-Anselme et Saint-Lambert-de-Lauzon. Plusieurs vols ont lieu à cet aérodrome au cours des jours qui suivent avant que l'Edelweiss ne retrouve sa base de Saint-Anselme le 15 septembre 2013.

In June 2009, the Continental O-200A engine was overhauled by Aéro Atelier at Lac-à-la-Tortue. Then, once the plane was reassembled, a fixed point was made on August 13, 2010. However, it was not until September 5, 2013 that a first flight took place between Saint-Anselme and Saint-Lambert-de-Lauzon. Several flights took place at this aerodrome over the next few days before the Edelweiss returned to its base in Saint-Anselme on September 15, 2013.

Extrait du carnet de route de l'aéronef.
Extract from the aircraft journey log.

Quelques vols locaux à Saint-Anselme sont encore effectués fin septembre et en octobre avant que l'année 2013 ne s'achève. En 2014, l'avion vole du 5 août et au 24 septembre et, en 2015, du 20 juin au 15 juillet. En 2016, 2017 et 2018, aucun vol n'est effectué avec l'Edelweiss. Toutefois, à chaque année en septembre, l'avion subit son inspection annuelle. 2019 voit la reprise des vols entre le 27 août et le 28 décembre et en 2020, C-GIWY vole du 25 janvier au 29 décembre. Une année faste, donc ! En 2021, les vols reprennent le Jour de l'An jusqu'au 28 mai 2021. Après cette date, une seule entrée au carnet de route sera inscrite ...

A few local flights were still made at Saint-Anselme at the end of September and in October before the year 2013 came to an end. In 2014, the aircraft flew from August 5 to September 24, and in 2015 from June 20 to July 15. In 2016, 2017 and 2018, no flights were made with the Edelweiss. However, each year in September, the aircraft underwent its annual inspection. 2019 saw the resumption of flights between August 27 and December 28 and in 2020, C-GIWY flew from January 25 to December 29. A prosperous year, then! In 2021, flights resumed on New Year's Day until May 28, 2021. After this date, only one logbook entry will be entered...

Toutes les photos - All the pictures

---

2021 :

Acquéreur recherché - Search for a New Home

Souhaitant faire de la place dans son hangar à Saint-Anselme pour héberger un nouveau projet d'hydravion en construction amateur, et ayant malgré tout une certaine affection pour l'Edelweiss, Antoine Moulin ne souhaite pas que celui-ci disparaisse ou soit mis en pièces. C'est ainsi qu'il contacte le Musée de l'aviation et de l'espace du Canada à Ottawa-Rockliffe pour offrir son avion à cette institution fédérale. Il n'obtient aucun retour, pas même un accusé de réception suite à son offre de don.

Wishing to make room in his hangar in Saint-Anselme to house a new amateur-built seaplane project, and despite everything having a certain affection for the Edelweiss, Antoine Moulin did not want it to disappear or be torn to pieces. This is how he contacted the Canada Aviation and Space Museum in Ottawa-Rockliffe to offer his plane to this federal institution. He got no feedback, not even an acknowledgment of receipt following his donation offer.

Vue du hangar et des avions d'Antoine Moulin à Saint-Anselme.
View of Antoine Moulin's hangar and planes in Saint-Anselme.

Très déçu et même fâché de cette impolitesse bureaucratique, il le propose ensuite à l'École nationale d'aérotechnique à Saint-Hubert. Mais comme cet aéronef peut difficilement être intégré dans le cadre des cours qui y sont enseignés vu son statut d'aéronef en construction amateur, les responsables de l'école suggèrent de le céder au Musée de l'aérospatiale du Québec. Dans l'heure qui suit l'envoi de la réponse de l'ÉNA, Antoine Moulin nous contacte pour nous dire que, si nous souhaitons avoir son avion, il est à nous. C'est ainsi que le MAQ accepte l'offre de don de l'Edelweiss C-GIWY !

Very disappointed and even angry at this bureaucratic rudeness, he then offered it to the École nationale d'aérotechnique in Saint-Hubert. But since this aircraft can hardly be integrated into the courses taught there given its status as an amateur-built aircraft, school officials suggested giving it to the Québec Aerospace Museum. Within an hour of sending ÉNA's response, Antoine Moulin contacted us to tell us that if we wanted his plane, it was ours. This is how the QAM accepted the Edelweiss C-GIWY donation offer!

L'Edelweiss C-GIWY devant le hangar d'Antoine Moulin à Saint-Anselme.
The Edelweiss C-GIWY in front of Antoine Moulin's hangar in Saint-Anselme.

Le mercredi 16 juin 2021, notte directeur des opérations, Pierre Gillard, se rend à l'aérodrome de Saint-Anselme. Sur place, il fait connaissance de Monsieur Moulin. Ensemble, ils sortent l'Edelweiss de son hangar afin que des photos puissent être prises sous toutes les coutures. Très clairement, on peut noter certains traits caractéristiques d'avions français, notamment d'appareils produits par Nord Aviation, c'est qui n'est pas pour déplaire.

Our Operations Manager, Pierre Gillard, went to Saint-Anselme aerodrome on Wednesday June 16, 2021. There, he met Monsieur Moulin. Together, they took the Edelweiss out of its hangar so that photos could be taken from every angle. Very clearly, we can note certain characteristic features of French aircraft, in particular those produced by Nord Aviation, which is not to displease.

Avionique et instruments de l'Edelweiss C-GIWY.
Avionics and instruments of the Edelweiss C-GIWY.

Toutes les photos - All the pictures

---
---
Au MAQ - At the QAM
10 juillet 2021 :
Dernier vol et livraison - Last Flight and Delivery
Le 10 juillet 2021 est un grand jour pour le Musée de l'aérospatiale du Québec. En effet, c'est par la voie des airs que le Roland Duruble RD02A Edelweiss immatriculé C-GIWY lui est livré par son propriétaire. Pour Antoine Moulin, cette journée débute tôt en matinée ce samedi à l'aérodrome de Neuville près de Québec. Avec son ami Paul, ils embarquent à bord du Champion Aircraft 7ECAX Citabria C-GJGA à destination de Saint-Anselme où l'Edelweiss se trouve basé. Arrivés sur place, une petite brume matinale règne sur la région, mais un atterrissage peut malgré tout se dérouler de façon sécuritaire. L'Edelweiss est sorti de son hangar pour la dernière fois et quelques coups de téléphone sont donnés avant le départ, notamment à la tour de contrôle de Saint-Hubert afin d'annoncer l'arrivée en formation des deux avions.
July 10, 2021 is a great day for the Québec Aerospace Museum. Indeed, it is by air that the Roland Duruble RD02A Edelweiss registered C-GIWY is delivered by its owner. For Antoine Moulin, this day begins early in the morning this Saturday at the Neuville aerodrome near Quebec. With his friend Paul, they board the Champion Aircraft 7ECAX Citabria C-GJGA bound for Saint-Anselme where the Edelweiss is based. Arrived on site, a small morning mist reigns over the region, but a landing can still take place safely. The Edelweiss left its hangar for the last time and a few phone calls were made before departure, in particular to the Saint-Hubert control tower to announce the arrival in formation of the two planes.
L'Edelweiss C-GIWY effectuant son ultime atterrissage sur la piste 24L à Saint-Hubert.
The Edelweiss C-GIWY making its final landing on runway 24L at Saint-Hubert.
En effet, l'Edelweiss n'est pas équipé de transpondeur alors que le Citabria l'est, d'où l'idée de voler ensemble. Par ailleurs, ce dernier servira à ramener Antoine Moulin à Neuville après avoir livré l'Edelweiss. Comme prévu, peu après 9h00, les deux avions décollent de Saint-Anselme en direction de Montréal. L'approche à Saint-Hubert se déroule sans aucun problème grâce à la gentillesse et l'efficacité des contrôleurs du trafic aérien de Nav Canada, pourtant bien occupés à émettre leurs instructions sur la fréquence 118,40 MHz à un débit proche de celui d'une mitraillette ! C'est vrai qu'il fait magnifique aujourd'hui et que c'est une journée idéale pour voler, ce que font beaucoup de pilotes, d'où l'achalandage.
Indeed, the Edelweiss is not equipped with a transponder while the Citabria is, hence the idea of ​​flying together. In addition, the latter will be used to bring Antoine Moulin back to Neuville after having delivered the Edelweiss. As planned, shortly after 9:00 a.m., the two planes took off from Saint-Anselme in the direction of Montreal. The approach to Saint-Hubert went off without any problems thanks to the kindness and efficiency of Nav Canada's air traffic controllers, who were nevertheless busy issuing their instructions on the 118.40 MHz frequency at a rate close to that of a submachine gun! It is true that the weather is magnificent today and that it is an ideal day to fly, which is what many pilots do, hence the traffic.
L'Edelweiss C-GIWY au roulage vers les installations de Chrono Aviation.
The Edelweiss C-GIWY taxiing towards the Chrono Aviation facilities.
Il est tout juste passé 10h30 et l'atterrissage a lieu sur la piste 24L avec un bon quart d'heure d'avance sur l'ETA initial. Les deux avions se suivent maintenant à la queue leu leu sur la voie de circulation "Tango" pour rejoindre le FBO de Chrono Aviation situé sur la route de l'Aéroport. Le Citabria se stationne à côté d'un Pilatus PC-12 de la compagnie, tandis que l'Edelweiss est placé à proximité de l'endroit où il sera entreposé, tout proche de la clôture.
It was just past 10:30 a.m. and landing took place on runway 24L a good quarter of an hour ahead of the initial ETA. The two planes are now following each other in single file on the "Tango" taxiway to reach the Chrono Aviation FBO located on the airport road. The Citabria is parked next to a Pilatus PC-12 from the company, while the Edelweiss is placed near where it will be stored, very close to the fence.
Antoine Moulin vient d'effectuer le dernier vol de l'Edelweiss C-GIWY.
Antoine Moulin has just performed the last flight of the Edelweiss C-GIWY.
Le personnel de Chrono Aviation, ainsi que nos membres Louise Gince et Pierre Gillard accueillent les deux pilotes. Quelques photos sont prises, notamment par notre photographe Philippe Colin accouru au pas de course de son emploi au FBO voisin le temps d'une très brève pause. Puis de lourds blocs de béton sont installés à l'endroit où l'Edelweiss est ensuite poussé. Ils serviront à l'amarrage de celui-ci à l'aide de sangles.
The staff of Chrono Aviation, as well as our members Louise Gince and Pierre Gillard welcome the two pilots. A few photos were taken, notably by our photographer Philippe Colin, who rushed from his job at the neighboring FBO for a very brief break. Then heavy concrete blocks are installed where the Edelweiss is then pushed. They will be used to moor it using straps.
Vue de l'Edelweiss C-GIWY signée Philippe Colin.
View of the Edelweiss C-GIWY signed Philippe Colin.
Pierre Gillard a amené toute la logistique nécessaire ainsi que de l'outillage avec un "véhicule de soutien technique" qui s'avère avoir le même âge que l'Edelweiss ! On installe donc les cales de roues, les couvres Pitot et un patron est découpé afin de réaliser des protections d'entrées d'air dans des carrés de mousse. De son côté, Antoine Moulin démonte le GPS pour le remplacer par un gyroscope directionnel à dépression d'époque. Un jour, nous devrions réinstaller une pompe à vide ainsi qu'un horizon artificiel afin de redonner un air d'antan au tableau de bord; probablement que ceci sera proposé le moment venu comme petit projet pour des étudiants du programme d'avionique de l'École nationale d'aérotechnique.
Pierre Gillard brought all the necessary logistics as well as tools with a "technical support vehicle" which turns out to be the same age as the Edelweiss! We therefore install the wheel chocks, the Pitot covers and a pattern is cut to make air inlet protections in squares of foam. For his part, Antoine Moulin dismantled the GPS to replace it with a period depression directional gyroscope. One day, we should reinstall a vacuum pump as well as an artificial horizon in order to restore an air of yesteryear to the dashboard; probably this will be proposed when the time comes as a small project for students of the avionics program of the École nationale d'aéronautique.
L'Edelweiss C-GIWY est solidement attaché à des blocs de béton le long de la clôture bordant les installations de Chrono Aviation.
The Edelweiss C-GIWY is securely attached to concrete blocks along the fence bordering the Chrono Aviation facilities.
Antoine Moulin démonte encore la batterie ainsi que la balise de détresse afin que plus aucune source électrique ne soit à bord de l'avion lors de son entreposage. Il bloque ensuite les commandes de vol, puis c'est le moment de faire une petite pause et d'aller boire un peu d'eau avant d'installer la bâche de protection sur l'habitacle. L'Edelweiss est maintenant complètement conditionné pour son entreposage.
Antoine Moulin again dismantles the battery as well as the distress beacon so that no electrical source is on board the plane during its storage. He then blocks the flight controls, then it's time to take a short break and go drink some water before installing the protective tarpaulin on the cockpit. The Edelweiss is now completely conditioned for storage.
Antoine Moulin remplaçant un GPS par un ancien gyroscope directionnel.
Antoine Moulin replacing a GPS with an old directional gyroscope.
Il est maintenant passé midi et c'est l'heure du délicieux lunch qui a été concocté par Louise Gince et placé dans des plats "façon traiteur". Maintenant que tout s'est déroulé sans le moindre problème et dans les temps prévus, c'est le moment de détente dans le salon du FBO de Chrono Aviation. Bien entendu, dans les discussions, il est question de l'Edelweiss et de son concepteur, Roland Duruble.
It is now past noon and it is time for the delicious lunch that was concocted by Louise Gince and placed in "catering style" dishes. Now that everything has gone smoothly and on schedule, it's time to relax in the Chrono Aviation FBO lounge. Of course, in the discussions, it is about the Edelweiss and its designer, Roland Duruble.
Le Citabria C-GJGA ayant servi d'avion d'accompagnement.
The Citabria C-GJGA having served as support aircraft.
Puis, pour les deux pilotes, c'est le moment du départ et du retour à Neuville avec le Citabria. Quant à l'Edelweiss, il est désormais hébergé gracieusement par Chrono Aviation que les responsables de l'organisation remercient chaleureusement. Pour ceux qui veulent le voir, il se trouve le long de la clôture au 5900, route de l'Aéroport.
Then, for the two pilots, it is time to leave and return to Neuville with the Citabria. As for the Edelweiss, it is now hosted free of charge by Chrono Aviation, which the organization's managers warmly thank. For those who want to see it, it is along the fence at 5900, route de l'Aéroport.
L'Edelweiss C-GIWY appartenant désormais au MAQ à son emplacement chez Chrono Aviation.
The Edelweiss C-GIWY now belonging to the QAM at its location at Chrono Aviation.
Toutes les photos - All the pictures
---
2021 à aujourd'hui :
Entreposage - Storage
Dans les jours qui suivent la livraison, trois membres du MAQ viennent drainer les réservoirs de carburant de l'Edelweiss afin d'éviter tout risque d'incendie ou de déversement intempestif. Puis des protections sont ajoutées pour obstruer les entrées d'air du moteur.
In the days that followed the delivery, three members of the QAM came to drain the fuel tanks of the Edelweiss in order to avoid any risk of fire or accidental spillage. Then protections are added to obstruct the air intakes of the engine.
Des protections sont placées dans les entrées d'air du moteur.
Guards are placed in the air intakes of the engine.
Le 18 octobre 2021, l'Edelweiss C-GIWY est officiellement immatriculé au nom du Musée de l'aérospatiale du Québec. Il s'agit du premier aéronef du MAQ a être officiellement inscrit au registre des immatriculations de Transports Canada (RACC-Registre d'immatriculation des aéronefs civils canadiens).
On October 18, 2021, the Edelweiss C-GIWY was officially registered in the name of the Québec Aerospace Museum. This is the first QAM aircraft to be officially registered in Transport Canada's registry (CCAR-Canadian Civil Aircraft Register).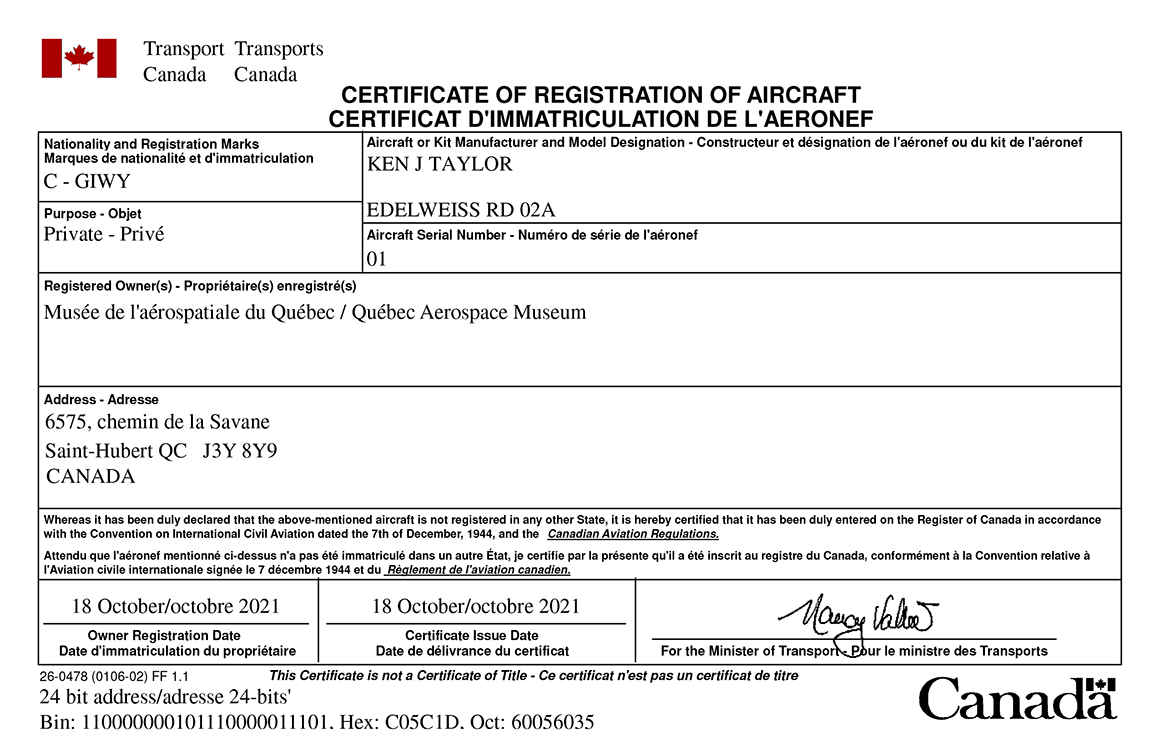 Certificat d'immatriculation du 18 octobre 2021.
Certificate of Registration dated October 18, 2021.
Selon l'accord passé avec Chrono Aviation qui héberge gracieusement notre Edelweiss, nous sommes tenus de venir le déneiger durant l'hiver après chaque averse de neige. Bien entendu, nous ne dérogeons jamais à cette règle, ce qui permet à quelques uns de nos membres de maintenir une certaine condition physique !
According to the agreement made with Chrono Aviation, which hosts our Edelweiss free of charge, we are required to come and clear it of snow during the winter after each snow shower. Of course, we never break this rule, which allows some of our members to maintain a certain physical condition!
Durant l'hiver, à chaque chute de neige, l'Edelweiss est déblayé par des bénévoles du MAQ.
The Edelweiss is cleared by QAM volunteers with each snowfall during the winter.
Toutes les photos - All the pictures
---
Cliquez sur les photos pour obtenir des images en pleine grandeur - Click on the pictures to get full size frames
Toutes les photos du Roland Duruble RD02A Edelweiss C-GIWY - All the pictures of Roland Duruble RD02A Edelweiss C-GIWY
---
---
---
Avec le soutien de - With the support of :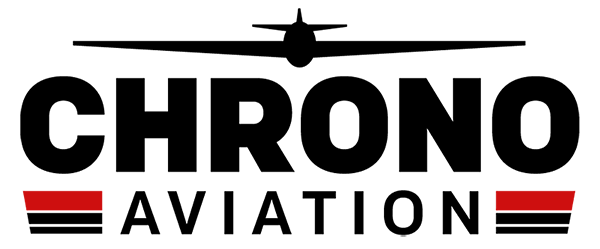 ---
Dernière mise à jour/Last update : 05-08-2023.
© Pierre GILLARD & Pierre MÉNARD