---
Background - Kitty Hawk Flyer Prototype (2017) - Production Kitty Hawk Flyer (2018) - Specifications - Pictures of Flyer MSN F26095 - Links
---
Background
Founded in 2010, Kitty Hawk Corporation is funded by Larry Page, one of Google's co-founders.
The lead engineers on the Kitty Hawk Flyer program in 2013-2018 were Canadian aerospace engineers Todd Reichert and Cameron Robertson who founded the human power vehicle team AeroVelo while students at University of Toronto who founded the human power vehicle team AeroVelo. Aerovelo initiated and carried out the Human-Powered Ornithopter (HPO) Project, nicknamed Snowbird, initiated in 2006. Next, the AeroVelo Atlas team won the US$250,000 AHS International Igor I. Sikorsky Human Powered Helicopter Competition with a flight lasting 64.1 seconds and reaching an altitude of 3.3 metres June 13, 2013. Then in 2013, Aerovelo set their sights on building the world's fastest human-powered vehicle to surpass the previous level-ground speed record. The result was that in 2015, Eta first succeeded in its goal and setting a new world record four times at the annual World Human Powered Speed Challenge in Battle Mountain, Nevada, most recently with an astounding 144.17 km/hr (89.59 mph). During the development and testing of the Eta speed bicycle Todd Reichert, Cameron Robertson and other members of the AeroVelo team were recruited to develop electric VTOL aircraft in California.
Kitty Hawk Flyer Prototype (2017)
The prototype Kitty Hawk electric vertical takeoff and landing (eVTOL) was unveiled the with a video on YouTube on Apr. 24, 2017 (and as of November 2020, the video has over 3.1 million views).
From their website at the time: "The Kitty Hawk Flyer is a new, all-electric aircraft. We've designed our first version specifically to fly over water. You don't need a pilot's license and you'll learn to fly it in minutes. We publicly revealed the working prototype in April 2017. The official Flyer will be available by the end of the year." (The production Flyer was actually unveiled in May 2018.)
The aircraft is was designed to meet the FAR Part 103 ultralight category introduced in 1982 that established limits on aircraft size (254 lb or 115 kg) and performance (a maximum speed 55 mph or 88 km/h), and also established that the people flying them needed no pilot's certificate or medical qualification (in the USA).
Production Kitty Hawk Flyer (2018)
The production Kitty Hawk Flyer was first revealed in early June 2018 at a "pop up" flight test center located on the northwestern shore of Lake Las Vegas, a man-made oasis about 14 miles (23 km) east of McCarran International Airport in Las Vegas, Nevada. The new Flyer version was colorfully described by The Verge as a "bobsled mounted on a couple of pontoons surrounded by a bunch of drone rotors." It uses ten electric motors for vertical propellers (three on each pontoon and four on struts).
It weighs 254 lb (113 kg), has a maximum altitude of 10 ft (3 m), a cruise speed of 20 mph (32 km/h) and a flight time in the range of 12-20 minutes. The aircraft qualifies under the US Federal Aviation Administration (FAA) Part 103 Ultralight Aircraft category, since it weighs less than 254 lb (115 kg).
In June 2020, Kitty Hawk announced it was suspending all development work on it Flyer personal eVTOL in order to "double down" on its primary eVTOL platform, Heaviside, a larger single seat tilt-rotor aircraft.
Kitty Hawk donated the Flyer with serial number F26095 to the Musée de l'aérospatiale du Québec in 2021. The aircraft was delivered by truck from California to Terminal LUX at Saint-Hubert airport on July 23, 2021. This is the only existing Flyer in Canada. A total of 111 Flyers were produced.
On September 21, 2022, Kitty Hawk Corporation, the California-based eVTOL developer backed by Google co-founder Larry Page, said that it will "wind down" operations.
QAM officials would like to thank Kitty Hawk and the Chrono Group for their generous collaboration in the preservation of this Flyer, a pioneering aircraft in the development of eVTOLs.
Specifications:

Pictures of Flyer MSN F26095: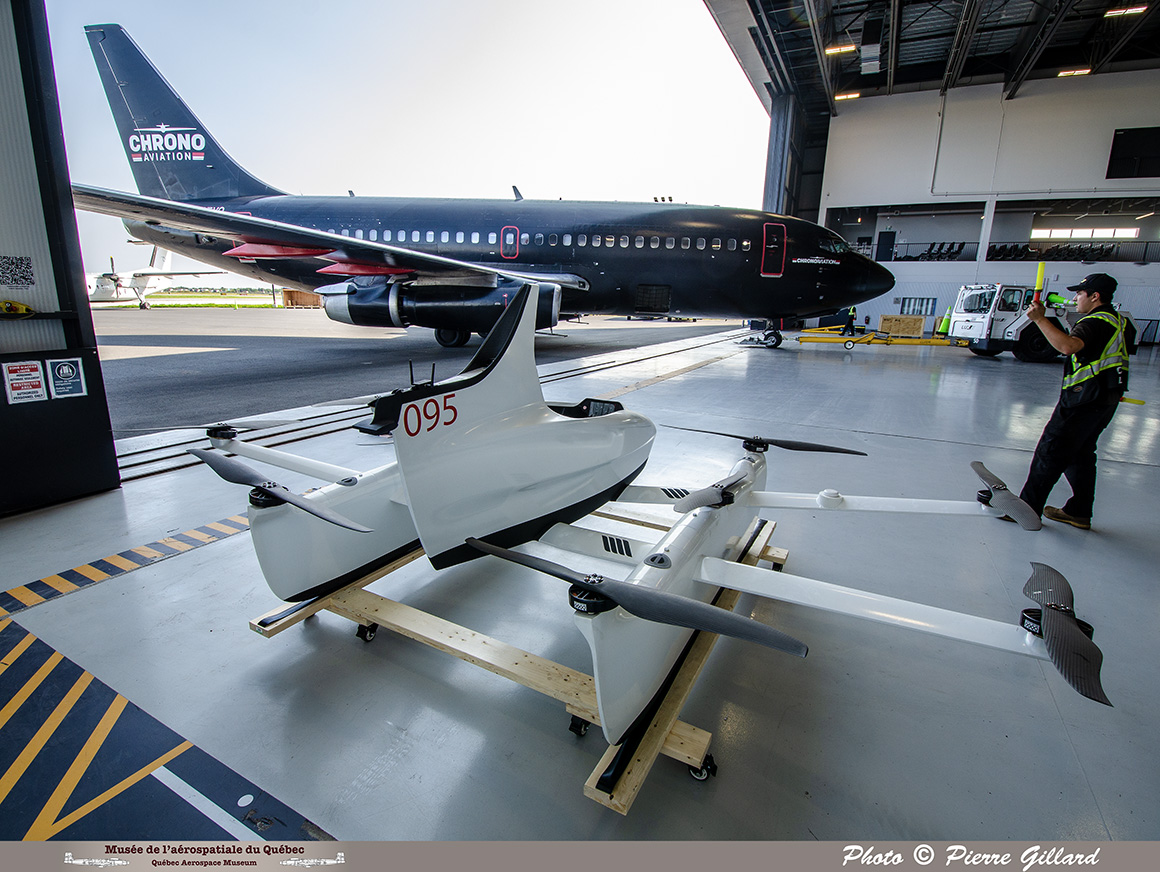 All the pictures of the Flyer.
Links:
eVTOL News video, Episode 1: Kitty Hawk Flyer Demo (YouTube, Vertical Flight Society, Oct. 15, 2017).
Back to Kitty Hawk: Exploring the Secrets of the Kitty Hawk Flyer (Vertiflite, November/December 2017).
From Aerovelo to Kitty Hawk (sidebar) (Vertiflite, November/December 2017).
Kitty Hawk Flyer revealed (Vertical Magazine).
VFS Kitty Hawk Heaviside video (YouTube, Vertical Flight Society).
Kitty Hawk Announcements (eVTOL News, Aug. 4, 2019).
Kitty Hawk Reveals Heaviside (eVTOL News, Nov. 4, 2019).



---
Last update: 10-10-2023.
© Kenneth SWARTZ, Pierre GILLARD & Pierre MÉNARD